Saskatchewan Celebrates Resumption of Provincial Firefighting Training
Released on August 22, 2023
Saskatchewan residents can once again be trained as certified firefighters in the province. Suncrest College has re-opened its firefighting program in Melville, Saskatchewan.

Today, the Government of Saskatchewan, Suncrest College and community representatives recognized the returning program's first summer cohort. Fourteen students have already begun their National Fire Protection Association (NFPA) training with more programs and courses becoming available this fall.

"Becoming a firefighter is more than just a job; it's a rewarding career for skilled professionals who are committed to the safety of our communities," said Advanced Education Minister Gordon Wyant. "Students trained here at Suncrest College are benefitting from up-to-date, high-quality training that is tailored to meet the needs of our growing province."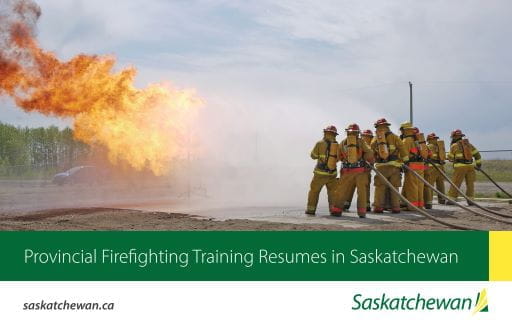 This year, the Government of Saskatchewan invested a combined $1.8 million toward the college's firefighting training program through the Ministry of Advanced Education, the Saskatchewan Public Safety Agency and the Ministry of Immigration and Career Training.

Suncrest College's provincial training site, newly named the Saskatchewan Emergency Response Institute, will provide continued municipal firefighter education to train pre-employment, volunteer and industrial firefighters.

"This program will ensure firefighters in Saskatchewan benefit from robust firefighting training, including continuing education," said Marlo Pritchard, Saskatchewan Public Safety Agency President and Fire Commissioner. "Firefighters play a critical role in safeguarding and protecting the people, property and resources of Saskatchewan, and our Government's support of this program is an investment in them and their commitment to improving public safety throughout the province."

Firefighting training was previously available through Parkland College until 2021 when it was placed on hold due in part to the impact of the COVID-19 pandemic. As a result, those who were seeking to become professional firefighters needed to go outside the province for training.

"Firefighting training has been a flagship for our College for the past 15 years," said Alison Dubreuil, President and CEO of Suncrest College. "Moving forward, this partnership ensures that we can continue to provide a coordinated, responsive, high-quality training and evaluation system for professional firefighting, volunteer services, and industrial training by incorporating SPSA's expertise in emergency response with Suncrest's expertise in program development, delivery, and student records. With additional government funding, we were able to upgrade the training facility in Melville and relaunch the NFPA 1001 professional firefighting program."

The next intake for the NFPA 1001 program is Spring 2024. Current students will have access to the Emergency Medical Responder course immediately following the completion of their program. Industrial fire training will also be expanded to meet industry needs this fall.

"It is good to have a school in a rural location because it prepares us for where most firefighters end up working in Saskatchewan," said current NFPA 1001 student Ethan Rugg. "The school is well-equipped to prepare us for anything you could expect from city fires to basic wildland fires."

Suncrest College was established in 2023 as a result of merging Cumberland College and Parkland College. The college offers a superior learning experience with locations in Canora, Esterhazy, Fort Qu'Appelle, Kamsack, Melfort, Melville, Nipawin, Tisdale, and Yorkton.

For more information about the firefighting courses available and how to apply, visit: parklandcollege.sk.ca/programs/protectionemergency/firefighting/nfpa1001.html

-30-

For more information, contact:

Media Relations
Advanced Education
Regina
Phone: 306-527-5231
Email: ae.media@gov.sk.ca

Media Relations
Saskatchewan Public Safety Agency
Regina
Phone: 306-798-0094
Email: media.spsa@gov.sk.ca

Jenna Niebergall
Suncrest College
Phone: 306-786-2580
Email: j.niebergall@suncrestcollege.ca